Welcome to Display Solutions Group in Chandler, AZ
13 Spooky Good October Marketing Ideas
Posted on 10/02/2017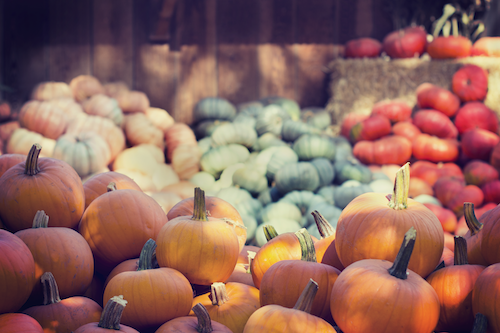 Happy October! This month is known for many qualities: cool fall weather, pumpkin carvings and the ever-favored hayrack rides. October is perfect for apple picking, big sweatshirts and toasty hot chocolate as we prepare for the cold winter ahead.
For small businesses and individual professionals, October provides the perfect opportunity to increase your marketing efforts, connect with potential customers and grow the organization. Are you feeling stumped on how to market this October? Check out our 13 ideas to get started marketing and growing this month.
1. Hold a costume contest. Because who doesn't love a good old fashioned costume contest during October, right? It gets customers engaged, having fun and intrigued with your business.
2. Sponsor a Halloween event. If you're not into the costume contest idea, a simple Halloween event is always a good route to go.
3. Offer an Oktoberfest beer special. Keep it family friendly, of course. Unless that's not your style. In which case, go all out.
4. Share a pumpkin carving contest. Probably the family friendlier option. Pumpkin carving is a great way to share your business with others while still offering a great time this fall.
5. Decorate your store front. Go all out and have some fun with decorations this month.
6. Spook-ify your marketing efforts. Whether it's an email, direct mail piece or social media post, get into the spooky spirit this October with some design efforts.
7. Support a fall sports team. There are lots of popular sports during the fall. See if you can sponsor a team to engage with the community and show your caring side.
8. Get creative on holidays. Halloween isn't the only holiday this month. Get a little creative with the holidays during October to stand out from the crowd. For example, have you heard about Sweetest Day, October 21st?
9. Engage in a trivia contest. Everybody loves a riveting round of trivia. Offer up your location or get involved with a local contest to network in the community.
10. Give away Halloween goodies. More than just candy, giving away Halloween goodies is a spooky way to interact with customers and remind them of your business.
11. Do trick or treating. Whether it's handing out business cards with candy or keeping your storefront open, trick or treating is a great marketing opportunity.
12. Offer early Black Friday specials. Black Friday isn't for another month, but you can get ahead of the curve by offering some "early" specials in October.
13. Give back to a cause. October is an awesome month to support various causes in your community (e.g. Breast Cancer Awareness Month, Domestic Violence Awareness Month, National Diabetes Month). Give back to a cause this October and increase marketing efforts.
This month, use October to jumpstart your marketing efforts into the end of the year. Try out some of these tips to share your mission and grow your personal or professional business.
Thank you for visiting Display Solutions. We look forward to serving your graphics and signage needs with a comprehensive product line and experienced design staff. Please take a moment to visit our product gallery where you will find examples of our completed projects which include monument signs, exterior fascia signs, both illuminated and non-illuminated, colonnade signs, promotional graphics, window and vehicle graphics as well as digitally printed banners and A Frame signs.
To request a free estimate or get help with a project, visit our Products or Services areas, or check out the gallery of signs and banners we have completed. To download useful software and find helpful information, search Resources & Support. To learn more about us, browse through our Company Information section. We love hearing from our clients, so please share any suggestions or ideas to improve our site by clicking on "contact us" at the top of the page.
An easy-to-use pulldown menu, search engine, and link to our contact form appear on each page. As well, feel free to go to the Search tab at any time if you're having trouble locating a particular item.
Ask a Question. Are you uncertain about whether or not we offer a particular product or service? Do you have a question about something specific to our industry? Or maybe you just can't find what you're looking for on our site? Or you can call us at 480 286 2320.
Enjoy your visit!
Display Solutions Group provides customized brand enhancement through the design and turnkey product management of business identity items such as signs and graphics. Offerings include large format printing for commercial and corporate interiors and illuminated exterior signage. We serve Phoenix Metro and the surrounding cities like Chandler, Tempe, Mesa, Scottsdale & Glendale and we also serve Tucson. For additional information, contact Tim McCloskey at 480 286 2320 or tmccloskey@displaysolutionsgroup.biz
---