Welcome to Display Solutions Group in Chandler, AZ
5 Big Benefits of Business Networking
Posted on 11/27/2017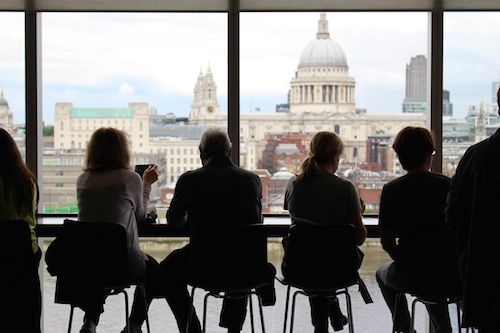 The term "networking" typically refers to those in the business community—small business owners, professional individuals and even large companies. According to Dictionary.com, networking conveys "... the exchange of information or services among individuals, groups or institutions; specifically: the cultivation of productive relationships for employment or business."
Networking builds relationships between individuals, small businesses and companies. So why are building these relationships important? We have some ideas.
1. Networking builds connections for the future.
Though there can be immediate results, networking builds a stronger foundation for the future by establishing meaningful connections today. For example, the more networking you partake in, the wider and deeper your network will grow. So, what does this mean? This means as you or your business continue to grow and network, you will further your reach and connections to the community. These relationships will only deepen in years to come as you continue to build up your network in the future.
2. Networking gets your name out there.
Networking simply means marketing an individual. When you or your employees go to networking events or get involved in networking groups, they market themselves to every other person there. This proves especially powerful because it gets your name out and circulating. When it comes to marketing efforts, word of mouth marketing works as a huge contributor. Potential clients and employers trust their friends and family. So when you build a network, those people go on to talk to others. Then, their friends and family, having been referred to you through word of mouth, are more likely to engage. And the cycle continues, so on and so forth.
3. Networking establishes your expertise.
Networking also serves as a useful tool in establishing your expertise in its field. The beauty of networking is in the conversations and relationships built up between individuals. When these conversations are used as a time to discuss the importance of your work, networking establishes a foundation of expertise. When you or your business serve as an expert in the community on an issue, potential clients will be much more likely to try out your services, because they believe in your credibility more than a competitor's.
4. Networking draws referrals.
Similar to getting your name out there, networking is a useful way to draw referrals. Whether those referrals act as employers, employees or clients—networking establishes a system of referrals. As more and more people get to know you or your business on a personal level—literally the very employees within—they will feel more connected and more likely to refer others they know to you. Some professional networking groups even have entire databases of individuals and businesses, which can be searched and utilized at any member's discretion.
5. Networking produces ROI.
Finally, one of the greatest components of networking—it produces ROI, or return on investment. The more time you invest in networking opportunities or groups, the greater your return will be. It's no wonder businesses, corporations and even professional individuals strongly encourage networking, and you can adapt these same principles as well.
When it comes to promoting you or your business, networking is a powerful tool for word-of-mouth marketing. Whether online, in networking groups or at a networking event, you can build sustainable relationships with other individuals, and establish your business as a focal point of the community. See what opportunities are available and try out networking for yourself.
Thank you for visiting Display Solutions. We look forward to serving your graphics and signage needs with a comprehensive product line and experienced design staff. Please take a moment to visit our product gallery where you will find examples of our completed projects which include monument signs, exterior fascia signs, both illuminated and non-illuminated, colonnade signs, promotional graphics, window and vehicle graphics as well as digitally printed banners and A Frame signs.
To request a free estimate or get help with a project, visit our Products or Services areas, or check out the gallery of signs and banners we have completed. To download useful software and find helpful information, search Resources & Support. To learn more about us, browse through our Company Information section. We love hearing from our clients, so please share any suggestions or ideas to improve our site by clicking on "contact us" at the top of the page.
An easy-to-use pulldown menu, search engine, and link to our contact form appear on each page. As well, feel free to go to the Search tab at any time if you're having trouble locating a particular item.
Ask a Question. Are you uncertain about whether or not we offer a particular product or service? Do you have a question about something specific to our industry? Or maybe you just can't find what you're looking for on our site? Or you can call us at 480 286 2320.
Enjoy your visit!
Display Solutions Group provides customized brand enhancement through the design and turnkey product management of business identity items such as signs and graphics. Offerings include large format printing for commercial and corporate interiors and illuminated exterior signage. We serve Phoenix Metro and the surrounding cities like Chandler, Tempe, Mesa, Scottsdale & Glendale and we also serve Tucson. For additional information, contact Tim McCloskey at 480 286 2320 or tmccloskey@displaysolutionsgroup.biz
---