Welcome to Display Solutions Group in Chandler, AZ
Outsourcing v. Insourcing Your Business Blog
Posted on 01/22/2018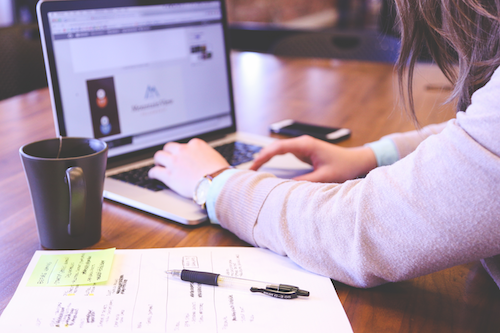 So, you have a website, analytics and maybe even some social media channels. You finally feel like you're starting to get the hang of this "marketing" thing, and really learning how to grow your team and customers. But then, you heard about blogging. Almost all businesses, organizations and professional individuals should have a consistently maintained blog on their website.
According to Hubspot, 53% of marketers say blog content creation is their top inbound marketing priority. In 205 alone, companies that published 16 or more blog posts per month got almost 3.5 times more traffic than companies that published less than four monthly posts. Clearly, blogging has a major impact on inbound marketing efforts. The more consistent, relative and current a blog is on a website, the better the traffic will be and more overall growth for the business. But still, the greatest question remains: who should actually write blog posts?
When it comes to blogging, there are two main options: insourcing or outsourcing your blog. Insourcing refers to having current employees or leaders within the organization take on the responsibility of blogging. On the other hand, outsourcing means—you guessed it—hiring an outside party handle it. Both insourcing and outsourcing a business blog have their advantages in business, so today we're going to take a deeper look and see which is the better fit.
1. Insourcing
One extremely helpful way in managing your website's writing is through insourcing writing. When internal leaders or team members—or you—manage the blog, you can feel confident they have the necessary knowledge base of the product or service, as well as a solid background mindset for the brand you want to promote. It can also be easier to communicate about then blog when it's managed in-house. For example, through meetings in person.
However, there are two great disadvantages when trying to manage your blog in-house: (1) blogs require a lot of work; (2) designating this work to employees who are already busy can be difficult. Consistent topic generation, blog writing, posting and sharing creates extra responsibility for team members who already have very busy schedules. Furthermore, assessing who has the best knowledge, time and competent writing skills within a business can be a challenge, and create further frustration or tension later on.
2. Outsourcing
On the other hand, outsourcing your blog efforts to a freelancer or marketing company can be a great alternative. Outsourcing guarantees working with professionals in the marketing fields, who know when, what and how to consistently keep your blog updated with engaging content. Most importantly, outsourcing your blog responsibilities have an exceptional ROI. Not only do you free up time within your own organization, but by bringing in professionals at a respectful price, you can be guaranteed to grow blog viewers, website visitors and business overall.
So, the biggest question is: does a business have the financial, time and marketing resources to insource a website blog? If not, then it may be best to outsource the work. While insourcing allows you full control of all content, outsourcing produces the same great content but without the added responsibility. Evaluate your current blogging needs to see if insourcing or outsourcing your blog is best for you, and continue to grow your business.
Thank you for visiting Display Solutions. We look forward to serving your graphics and signage needs with a comprehensive product line and experienced design staff. Please take a moment to visit our product gallery where you will find examples of our completed projects which include monument signs, exterior fascia signs, both illuminated and non-illuminated, colonnade signs, promotional graphics, window and vehicle graphics as well as digitally printed banners and A Frame signs.
To request a free estimate or get help with a project, visit our Products or Services areas, or check out the gallery of signs and banners we have completed. To download useful software and find helpful information, search Resources & Support. To learn more about us, browse through our Company Information section. We love hearing from our clients, so please share any suggestions or ideas to improve our site by clicking on "contact us" at the top of the page.
An easy-to-use pulldown menu, search engine, and link to our contact form appear on each page. As well, feel free to go to the Search tab at any time if you're having trouble locating a particular item.
Ask a Question. Are you uncertain about whether or not we offer a particular product or service? Do you have a question about something specific to our industry? Or maybe you just can't find what you're looking for on our site? Or you can call us at 480 286 2320.
Enjoy your visit!
Display Solutions Group provides customized brand enhancement through the design and turnkey product management of business identity items such as signs and graphics. Offerings include large format printing for commercial and corporate interiors and illuminated exterior signage. We serve Phoenix Metro and the surrounding cities like Chandler, Tempe, Mesa, Scottsdale & Glendale and we also serve Tucson. For additional information, contact Tim McCloskey at 480 286 2320 or tmccloskey@displaysolutionsgroup.biz
---