Welcome to Display Solutions Group in Chandler, AZ
Big Ideas for Your Next Business eBook
Posted on 01/14/2019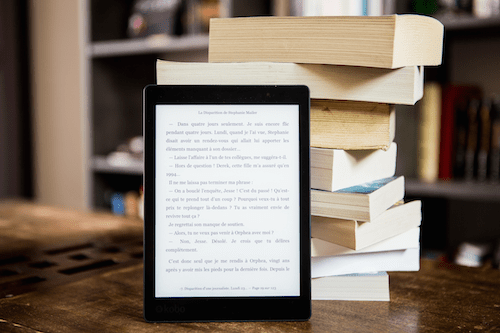 If you're a business owner, professional or marketer, then you've probably heard about one of the latest crazes in online marketing: the eBook. An eBook, also known as an electronic or digital book, is a version of a book released digitally, so readers can enjoy the text and images via their electronic devices, such as a tablet or laptop. 
Recently, many small and large businesses have taken to producing their own eBooks for clients and potential customers to enjoy. And for good reason, since according to Statista, between January and September of 2018, revenue from eBook sales mounted to approximately 771 million dollars. Needless to say, when it comes to content marketing for your business, an eBook is a great step. If you're not sure where to start, here are some big ideas for your next business eBook.
How-to Guide
One of the most popular types of eBooks is the informative how-to guide. In this, you teach the reader about something you're experienced in. More than likely, you or your company knows how to do something which other people do not know. Use this information as a way to generate content you can share with customers. For instance, a marketing company might produce an eBook on How to Create an eBook for Your Business. 
Step-by-Step Process
Similar to the how-to guide, the step-by-step process brings a unique twist to the instructive information you have to share. Only this way, you share the in-depth steps on how readers can accomplish or learn something new. If you really want to develop a robust resource guide, you could even combine the how-to guide with the step-by-step process. For instance: How to Create an eBook for Your Business: A Step-by-Step Guide to Production.
Industry Expert
If you want to market the business as the expert in the industry, then an eBook is the perfect way to do so. Consider what products or services you provide which you would consider the company an "expert" in, and then share about those through an eBook. Give industry info and insider information, but be careful to not release too much, so readers will want to come learn more as customers.
Influencer Spotlight
Speaking of the industry, why not write an eBook by spotlighting an influencer? Industry influencers often have a lot to say, and have had a huge impact on the products or services you promote. Write an eBook featuring them, or reach out and see if they would be interested in being a guest content creator. However you choose to incorporate an influencer, everyone wins in the business partnership.
Blog Posts Compilation
If your business has a consistent website blog, then why not put all of that content to another great use: an eBook. A blog posts compilation is the perfect way to incorporate relevant and related blog articles into a "super resource" of sorts. You can use the same content you've already produced, or you can add in extra bonus information for the eBook readers. This is a simple way to accomplish two goals with one effort, by reusing content in a different marketing outlet.
Seasonal Resource
Of course, perfect way to promote your eBook is by connecting it to seasonal interests. Do any of your products or services have a seasonal connection, whether through weather, holidays or events? Use this seasonal connection to write an eBook as a resource for the occasion. For instance, a print shop might create an eBook on Designing Your Perfect Wedding Invitation during winter, just in time for brides to order their invites for wedding season.
If your business wants to upgrade its content marketing game, than an eBook is the perfect way to go. Consider some of these topic ideas as you develop your next eBook, to see how it can influence your business growth.
Thank you for visiting Display Solutions. We look forward to serving your graphics and signage needs with a comprehensive product line and experienced design staff. Please take a moment to visit our product gallery where you will find examples of our completed projects which include monument signs, exterior fascia signs, both illuminated and non-illuminated, colonnade signs, promotional graphics, window and vehicle graphics as well as digitally printed banners and A Frame signs.
To request a free estimate or get help with a project, visit our Products or Services areas, or check out the gallery of signs and banners we have completed. To download useful software and find helpful information, search Resources & Support. To learn more about us, browse through our Company Information section. We love hearing from our clients, so please share any suggestions or ideas to improve our site by clicking on "contact us" at the top of the page.
An easy-to-use pulldown menu, search engine, and link to our contact form appear on each page. As well, feel free to go to the Search tab at any time if you're having trouble locating a particular item.
Ask a Question. Are you uncertain about whether or not we offer a particular product or service? Do you have a question about something specific to our industry? Or maybe you just can't find what you're looking for on our site? Or you can call us at 480 286 2320.
Enjoy your visit!
Display Solutions Group provides customized brand enhancement through the design and turnkey product management of business identity items such as signs and graphics. Offerings include large format printing for commercial and corporate interiors and illuminated exterior signage. We serve Phoenix Metro and the surrounding cities like Chandler, Tempe, Mesa, Scottsdale & Glendale and we also serve Tucson. For additional information, contact Tim McCloskey at 480 286 2320 or tmccloskey@displaysolutionsgroup.biz
---